I started to investigate how tactic cards really work. I said to post this separately, not only in the Bugs lists because I think this needs a discussion to understand how things are.
So here are 4 situations that I need more understanding with. At the end I have a few hypotheses to be confirmed:
a. See the screenshot bellow - it says that you can choose only one, but actually you can choose 3 cards. And what set is it about? – I have 2 cards from same set (Archers) and I can use them. Either change the text or allow only one card. What is intended?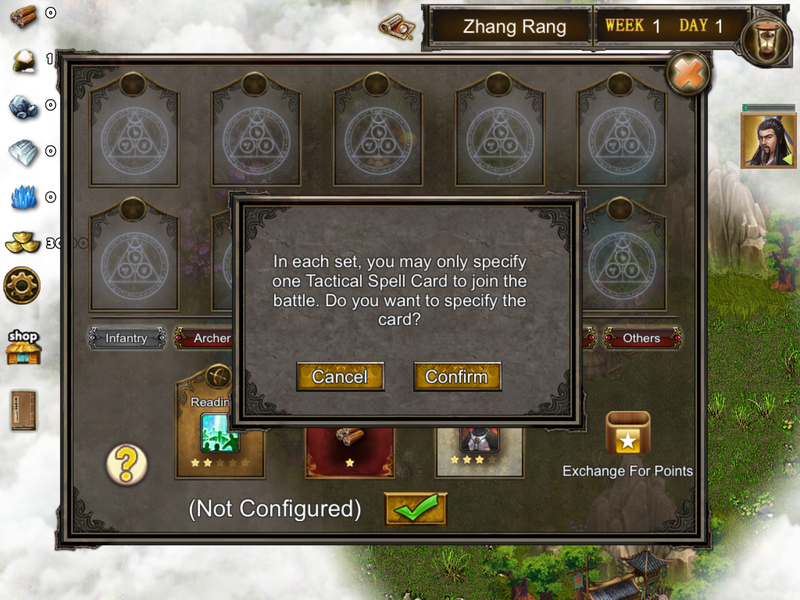 b. Even if I have 5 gold for upgrading and the ok button is enabled, taping on it, won't do anything. I tested that later with the 1000 exchange points and still the same.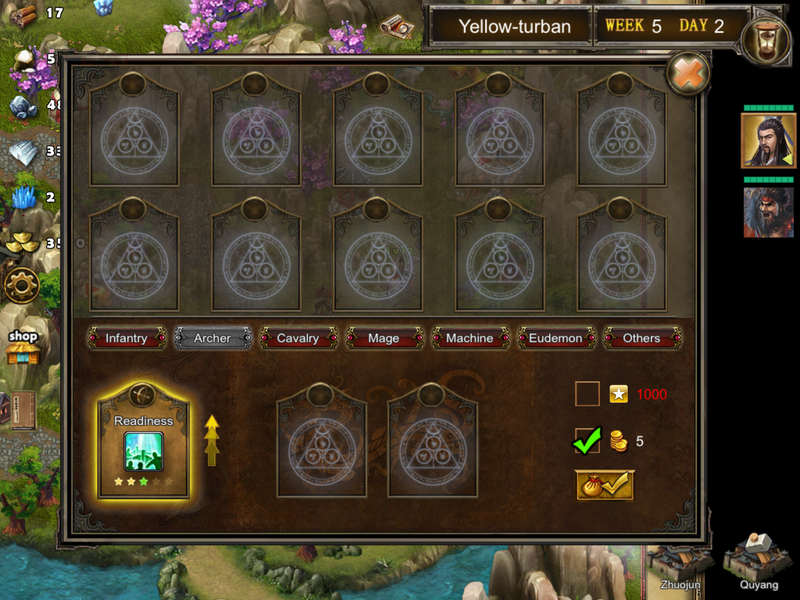 c. Also when selecting the Readiness card for upgrading the other cards will disappear from the upper rubric. Maybe this is if you want to use other cards to upgrade the one you have and maybe there aren't ones that are ok, but this is not very intuitive and no explanations are given.
There are 2 screenshots bellow. First is with all the cards I had. Second is with upgrade screen and all the upper cards disappeared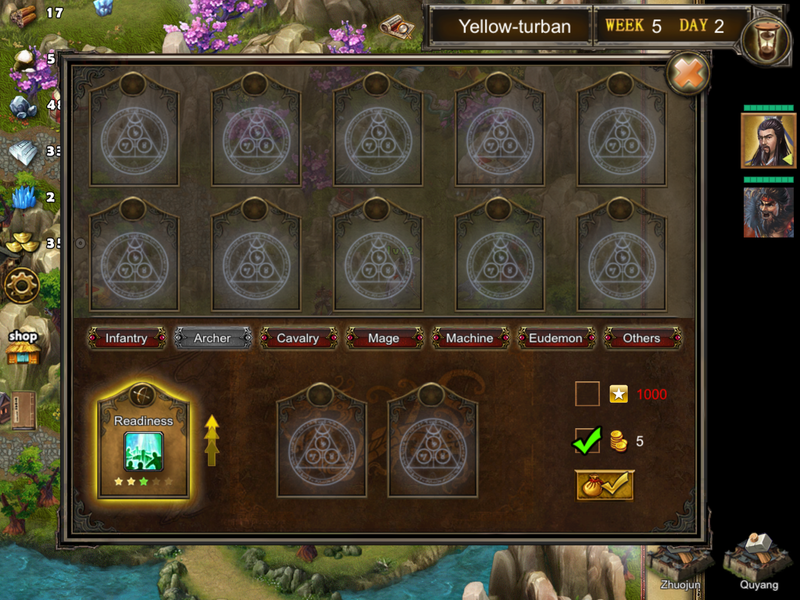 d. Currently I'm having problems upgrading cards, meaning that the Readiness card is the only one that has the upgrade button. The others don't have it. The cards that I currently have are
- from Infantry – Harden Blade – 1 star and at level cap
- from Archer – Toughen Archer – 3 starts from 10. There are 10 stars in the drawing, but the text says "The card 5 stars can be upgraded" (see screenshot bellow) / Readiness – 2 from 5 stars
- from Eudemons – Improve Freeze and Dragon's Trace – both with 1 star from 5 and both they are saying "The card 2 stars can be upgraded" (see screenshot bellow). So I don't understand this either – what 2 stars?
- from Other's – Woodcutting – 1 star and at level cap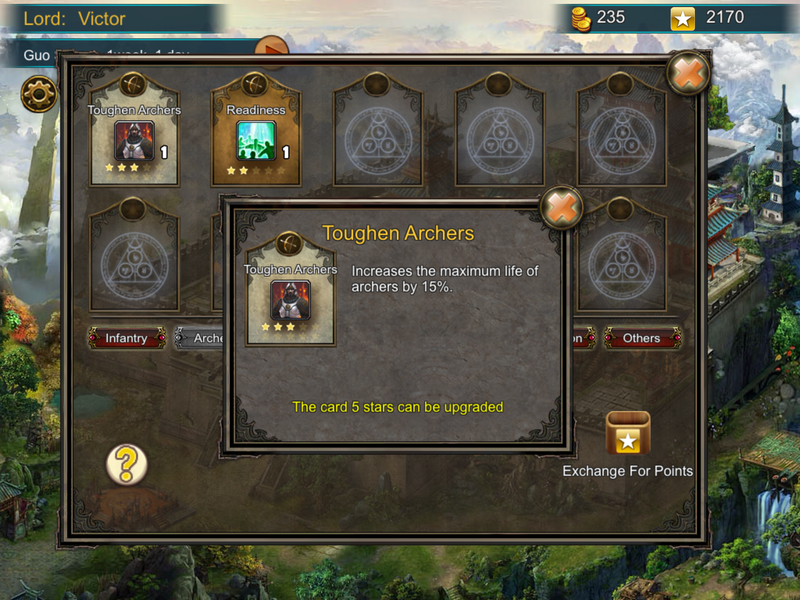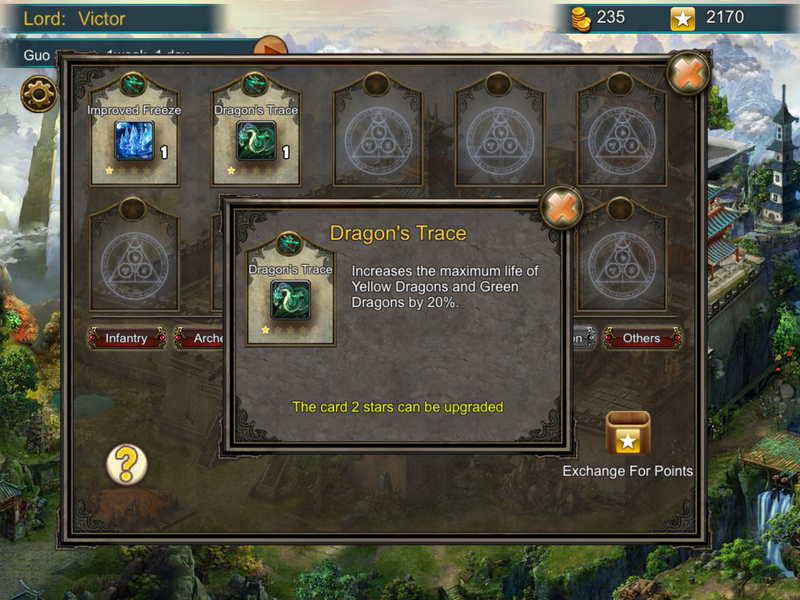 Maybe somebody will explain more clear how the info on the screenshot bellow really works.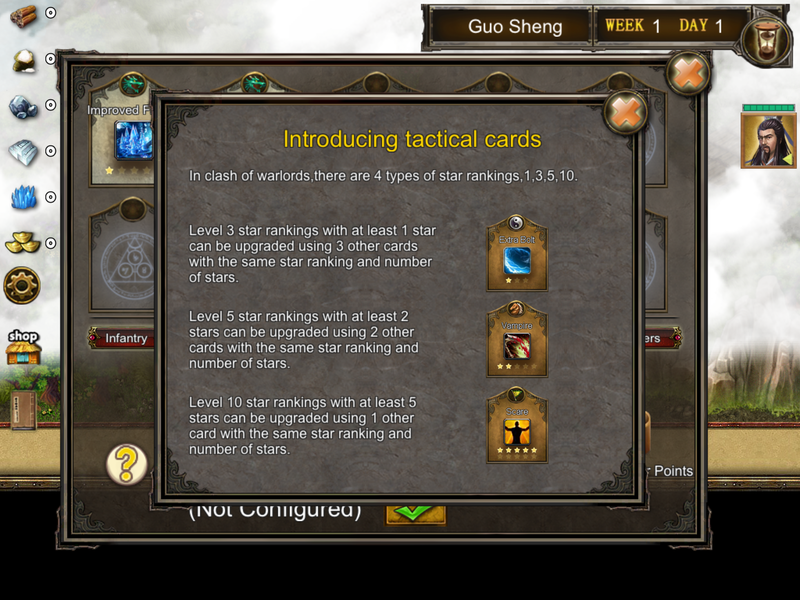 When can you upgrade a card for resources (coins and exchange points) and when you can use only other cards to upgrade. And in general how can I upgrade a card using other cards – where do I put them. Currently I don't have 3 cards with 3 star ranking with at least 1 star or 2 cards with 2/5 starts or 1 extra card 5/10. And can you upgrade cards that have less then the minimum specified above (3 ranks less than 1/3, 5 ranks less than 2/5 and 10 ranks less than 5/10)
So I need a little help with understanding the Tactic Cards upgrade system, what is intended and what is a bug
For now I have a few hypotheses to answer my questions, but don't know if they are right.
1. Readiness is the only one to upgrade because it's the only card that meets the minimum requirements – had 2 stars and is rank 5
2. The other cards disappear from the menu when I want to upgrade the Readiness card because they are not minimum 2 from 5 (2/5) rank 5 cards
3. The ok button from upgrade doesn't work because even if I have 5 gold or the 1000 exchange points I don't have the 2 required cards. If this is right then when taping that ok button the game should announce you what you are missing.\
4. "The card 2 stars can be upgrade" – maybe what this is trying to say is that this card is not upgradable because it has only 1 star and there is a minim of 2 stars to be able to upgrade. I would change the English here to "Only minimum 5 stars cards can be upgraded" for the 10 ranks and "Only minimum 2 stars cards can be upgraded" for the 5 ranks and "Only minimum 1 star cards can be upgraded" for the 3 ranks ones.